PROFILE
---
COMPANY PROFILE
The
Duflex
company was established in June 1990 and incorporated in the Commercial Register as a sole proprietor. In 2004 it was transformed into the limited liability company called Duflex, s.r.o. The owner and CEO is Mr.
Ing. Jiří Žajdlík
---
The firm´s core business concerns mining industry: The flexible air ducts designed for separate ventilation with wide-range field of utilisation: For underground mines, tunnels and environments with danger of explosion of all categories, for collectors, galleries and air conditioning.
Further, the Duflex, s.r.o. company deals with 
spiral agility tunnels for dogs
manufacturing car covers, tarpaulins for trailers, cover tarpaulins for cars, carriages and ships, tarpaulins for coverage of ageing concrete, transported hot bituminous mixtures and roofs in building industry, tarpaulins for coverage of septic tanks, children´s sandpits, small ponds and pergolas, insulating fillings for flowerpots and durable bottom and covering foils for pools of various shapes and sizes, collapsible tanks for potable and service water.
---
CERTIFICATES OF QUALITY
The company´s Management and Quality System has been verified and certified by National Quality Assurance Limited based on requirements stipulated in the BS EN ISO 9001:2000 standart. The certficate was issued on the day of May 7, 2004. Also the Management and Quality System of the transformed company Duflex, s.r.o. was certified on the day of March 9, 2005 according to EN ISO 9001 : 2001 by the Certification Authority VVUÚ, a.s. Ostrava-Radvanice. Preparation for certification and internal audits are performed by TOQUM, s.r.o. Ostrava.
ATEX english version (.pdf)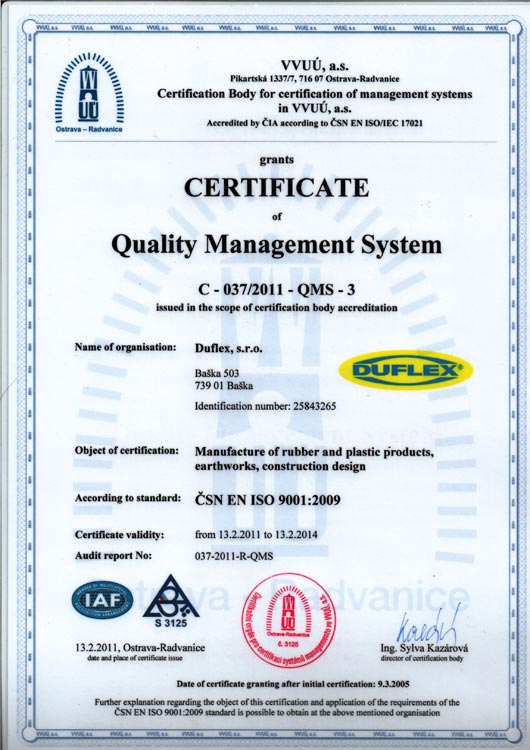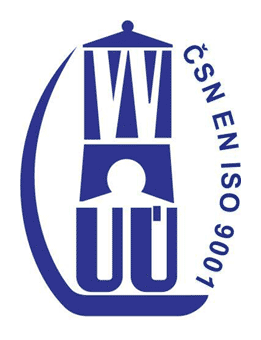 CERTIFICATES OF FLEXIBLE AIR DUCTS